Queen Elizabeth National Park
Queen Elizabeth National Park (QENP) is located in the western rift valley of southwestern Uganda covering Kawenge and Kanugu districts at 1,978 sq km.
Queen Elizabeth National Park is Uganda's premier game-viewing destination and one of the most biologically diverse parks in the world.
The park is bounded to the west by the Ishasha River and Lake Edward along the Congolese Border, to the north by Kasese and the Rwenzori foothills, to the east by Lake George, the Kyambura Gorge, and Kalinzu Forest Reserve, and to the south by the Kigezi Wildlife Reserve.
It is divided into 2 sections the northern part of the park known as Kasenyi Plains and the Southern Part known as Ishasha Sector. This is a vast low-lying savanna plain lying south of the equator in the Albertine Rift Valley, known for its tree-climbing lions consisting of around 40 individuals split across three prides.
Queen Elizabeth National Park is operated and run by Uganda Wildlife Authority.
The Park 
Queen Elizabeth National Park is one of Uganda's most popular national parks combining beautiful scenery with some of the best wildlife-viewing safaris in the country. There are over 100 mammal species including Lions, Elephants, Chimpanzees, and an astounding 606 bird species in her diverse ecosystems from open savannah grasslands to rain forests.  
The Kazinga Channel, a natural canal that joins Lake Edward and Lake George is one of the park's domineering features and offers the opportunity for close-up wildlife safari encounters with hippos on the boat cruise while elephants and buffaloes, as well as an array of other mammals, visit the channel's shoreline.
The shores of the channel are also a birders' paradise. The adjacent Kyambura Gorge, a habituated chimpanzees, man's genetically closest wild animal relative, and the Maramagambo forest with its diverse attractions like the blue lake, hunters cave, bat cave, and the crater lakes surrounding the park.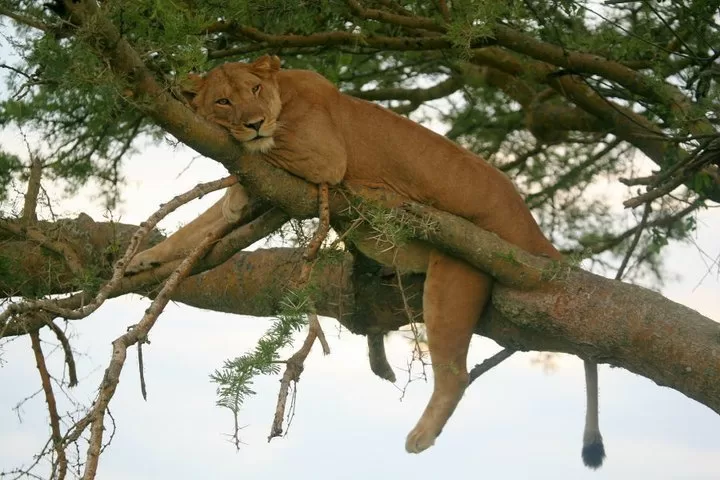 Top things to do in Queen Elizabeth National Park 
Game viewing / Wildlife drives in Kasenyi and Ishasha Sector
The tracks are mainly in the northeast of the park, Kasenyi Savannah Plains. The plains are ideal for photography of massive herds of gazers in the green and golden savannahs like the Uganda Kobs, majestic elephants, and warthogs.
They are also Ideal for birding and sightings and interactions of stealthy predators looking for prey meals. 
The tracks through Kasenyi, the North Kazinga Plains, and the Ishasha Sector offer guaranteed sightings of buffaloes, antelopes and elephants, and lions among others. There is also the Leopard track that offers chances of viewing the leopards that frequent the area.
The Ishasha sector game safari is notably recognized for its resident Tree climbing lions which are an exceptional attraction and one of the highlights of all safaris taken within Queen Elizabeth National Park.
In the southern section of this park, the Lions are now and again spotted hanging on branches of huge fig trees whereas the Uganda Kob (which are the major food to these lions) graze in the plains of the Ishasha sector.
The Ishasha sector is located near the fur most south-western rim of Queen Elizabeth National Park. The landscape in this section of the magnificent park is considerably different from that found in other parts of Queen Elizabeth National Park.
It is a very breathtaking sight to see the King of the animals perched up high on one of the branches of the huge fig trees in this area, lazily resting away as the day goes by. The Ishasha is certainly one of the very memorable Africa Safari destinations.
Kazinga Channel Boat Cruise
The Mweya Peninsula offers a panoramic view where it exits Kazinga Channel onto Lake Edward.  The Kazinga Channel cruise covers 32 kilometers and is a natural waterway connecting Lake George on the east with Lake Edward on the west. 
Lake George receives water from the Rwenzori Mountains and drains into the Kazinga Channel. Lake Edward is known as one of the largest freshwater lakes in Africa covering an area of 2,000 square kilometers. 
The channel offers the opportunity to view a stunning array of Queen Elizabeth National Park wildlife, aquatic, terrestrial, and avian.
This is a 2-hour launch trip session run daily at 9:00, 11:00, 15:00, and 17:00. An average of 60 bird species can be spotted during the trip. Look out for hundreds of enormous hippos and buffalos and elephants along the shoreline.
Chimpanzee tracking in Kyambura Gorge.
The Kyambura Gorge is in the eastern section of Queen Elizabeth National Park with the Kyambura River flowing through it.
The gorge lies at a depth of 100 meters and is 16km long below the Kichwamba and is one kilometer wide at its widest point. It is also called the 'Valley of Apes' and has about 15-20 habituated chimpanzees.
It's also known for the presence of other primates of Africa such as the black and white colobus monkey, vervet monkey, olive baboon, and red-tailed monkey. There are chimpanzees and nature walks in the gorge ranging from 2 to 4 hours.
Chimpanzee tracking is done with 2 sessions, a morning session at 8:00 and an afternoon session at 13:00 from Fig Tree Camp. The chimp sightings are not guaranteed as they are a few primates habituated. 
Birdwatching safaris in the park.
Queen Elizabeth National Park is Classified as an Important Birding Area (IBA) by Birding International.  It is home to over 600 species with the park's confluence of savanna and forest, linking to the expansive forests of DR Congo allowing visitors to spot East as well as Central African species. 
The park has numerous water birds, woodland and forest dwellers in the Maramagambo Forest, 54 raptors, and various migratory species. Bird species include White-winged Terns, Swamp Flycatchers, Grey-capped Warbler, Grey-headed Kingfishers, Collard Pratincole, African Jacana, Pin-tailed Whydah, and Martial Eagle.
Other bird species include Gabon, Slender-tailed Nightjars, the lovely Black-headed Gonolek, Great and Long-tailed Cormorants, Common Squacco Heron, African Skimmer, African Fish Eagle, Verreaux's Eagle-Owl, Sedge Warbler, White-winged Warbler, Papyrus Gonolek, Papyrus Canary, Great White, Pink-backed Pelicans, African Mourning Dove and Marabou Storks.
The birding hot spots in the park are Kazinga Channel, Kasenyi Area, Mweya Peninsula, Maramagambo Forest, Ishasha Sector, Lake Kikorongo, Katunguru Bridge area, and Katwe Area.
Nature Walks at the Maramagambo Forest
The Maramagambo forest is a great place for nature walks that take 2-6 hours and is popular among birders. Nature walks are organized along the 4 nature trails to learn about forest conservation while also spotting small crater lakes, birds, primates, and other forest creatures.  
The waterfalls trail takes 4 hours along an 11 km walk proceeding to the hilly parts of the forests and offers an insight to explore the scenic beauty of Kilyantama waterfall. 
The river trail takes 1- 2 hours and leads to Kajojo River with chances of viewing primates  L'Hoest's monkeys, Vervet monkeys, black and white monkeys, bush babies, red-tailed monkeys, baboons, and bird species.
The forest trail is ideal for hikers and offers opportunities for viewing rivers, primates, birds, and tree species. 
The valley trail takes 2 hours and involves walking along the ridge leading to the Viagra tree. 
The palm tail is a 5km nature walk and takes 2 hours leading to some tree species like the Raphia palms and the dragon trees. 
Community-Based Tourism Projects
Kikorongo Women Community (KWC)
KWC is a grassroots organization led by women in the Western province of Uganda. Formed in 2007, it works to build the capacity of women and girls to advocate for their rights and those of vulnerable people.
KWC main strategies include mobilizing families and communities for social norms change, promoting livelihood programs and income-generating activities, and raising awareness of sexual and reproductive health and rights.  
The community demonstrates traditional art skills where they teach how to weave baskets, belts, and purses and make bowls from natural fibers from their African craft workshop. You will also learn how they make beautiful beads out of simple magazine papers.
Kikongoro Equator cultural performers engage in activities like music, dance, and drama and they usually perform for the guests, they can demonstrate to you how fire is made and the local interpreters will be there to help you understand the performances.
You may visit their individual families to learn more about their daily life activities like farming, cooking, and building grass-thatched houses. 
Kichwamba Escarpment Community Tour
The program brings real-life experiences to tourists while enabling the local community to develop income-generating tourism-related ventures that safeguard their traditions and preserve the local environment.
Katinda Cliff and Twin Lakes
This is a fairly short walk in fascinating surroundings with fantastic views of Queen Elizabeth National Park and Kyambura Game Reserve.
Get a lifetime experience with the local community going about their daily chores, including fishing, gardening, and brewing the popular local drink -"tonto".
Thereafter, you will have a nature walk descending to the twin lakes of Katinda and Murambi and cross the Ismuth separating the 2 lakes.
Kasyoha- Kitomi Forest Trail
Get off the beaten track and head to Kasyoha –Kitomi forest on a 3-hour guided hike.  Look out for primates such as chimpanzees, blue monkeys, red-tailed monkeys, black and white colobus, vervet monkeys, and baboons. The reserve also boasts spectacular crater lakes such as the twin lakes of Kamweru and Kyema as well as the "transparent" lake Kamunzuku.
Indigenous Tree Conservation Program.
You will have a chance to plant your own tree on land adjacent to the Kasyoha-Kitomi Forest Reserve. This program aims at preserving and re-establishing indigenous trees that are of great benefit to the community as some are of medicinal value.
At the Kichwamba Foundation
You may participate in other community activities including a coffee tour experience learning about the processing of coffee, Local beer brewing, and Tasting, Local food preparation and tasting, and Cultural Traditional Dances. 
Crater Lakes Explosion Tours 
Basically, There are 3 major concentrations; Katwe Explosion Craters found in Queen Elizabeth National Park, the close by Bunyaraguru Crater Field on the impressive Kichwamba escarpment as well as the beautiful Ndali-Kasenda Crater Field close to Kibale National Park. Among the Katwe Explosion Craters, the enormous Kyemengo Crater is absolutely the most alluring.
These are situated just north of the impressive Mweya Peninsula and actually are the highest elevation in this national park.  Enjoy the spectacular Crater Drive that runs 27 km which presents distant sights of the stunning crater lakes while on your way. 
There is plenty of wildlife to see along the drive, although the commonest are sights of Buffaloes plus Elephants. Lake Nyamunuka crater drive takes about 2 hours and offers sightings of herds of buffalos.  Watch out for Lake Kitagata a lake fed by salty hot springs with no wildlife around but just more than beautiful can describe. 
Along this drive, you will be rewarded with sights of the great Western Rift Valley plus its escarpments, Lake George, the Rwenzori Mountains of the Moon, the Kazinga Channel plus Lake Edward.  You will also have the chance to visit the gorgeous Lake Katwe plus its long ago salt works.
Katwe Salt Lake
Lake Katwe is one of the few salt lakes in East Africa. The lake has no wildlife because of the high salinity. During the dry season as villages gather to remove salt from the milky waters. Salt mining has survived in Katwe for centuries and was once very lucrative until other sources and methods of mining were discovered. 
Most of the salt used in Ugandan homes originates from Lake Katwe. Salt is still mined traditionally using hands despite the dangers of toxic saline waters.
A visit to the mines allows tourists to learn about the salt mining industry while also interacting with the local mining community. Most of the salt is sold to manufacturers while the rest is taken home by the miners.
Nearby is the bird sanctuary of Lake Munyanyange, where both lesser and greater flamingos can be sighted from August to November.
Wildlife Conservation and Research Tours
Queen Elizabeth Park offers chances for Wildlife Research Tour Projects. These include Lion Tracking, Mongoose Tracking, Hippo Census, and Bird species counts.
Get to participate in the monitoring of some of the bird species and mammals using locator devices like radio collars and learn more about the habituation calls, and behaviors of the animals.
The tourists accompanied by researchers and ranger guides watch as researchers take records of the different projects at times take part in the periodic animal censuses. 
Where to stay in Queen Elizabeth National Park 
Elephant Plains Lodge
The lodge is Perched 941 meters above sea level, high up on the western escarpment of the Albertine rift in the northeast of the park. The lodge offers panoramic views stretching for miles over the huge open grasslands to Lake George.
It features 6 double/twin ensuite cottages and 2 family cottages with 2 bedrooms and 2 bathrooms. All 10 cottages have private spacious verandas with views of the park.
Other facilities include a Spacious lounge with comfortable seating, a bar with bistro seating, a restaurant, dining room with spacious decking offering 270-degree views.
There is also a swimming pool and loungers, large gardens, nature trail walkways, a craft shop, Free WIFI, wheelchair accessible, and open top game vehicle on site.
Mweya Safari Lodge
The lodge is located on the Mweya Peninsula and features 16 Classic Guest Rooms, 28 Deluxe Guest Rooms, 2 Wheelchair Friendly Guest Rooms (Included Classic rooms), 2 Suites, 2 Safari Tents, 2 Family Cottages, the Queen's Cottage, the Presidential Cottage, Queen's Pavilion Conference Facilities.
Other facilities include Marasa Africa Spa, Fitness Centre, Poolside deck overlooking the Kazinga Channel, Gift Boutique Store,  Business Centre, Kazinga Restaurant, and Terrace, Tembo Bar, Poolside deck overlooking the Kazinga Channel, and Bush Dinning in Queen Elizabeth National Park.
Buffalo Sa
fari Lodge
The Lodge is located at Queen Elizabeth Park, Katunguru Bridge, near the magical Kazinga channel, 1km off Kasese-Mbarara road, Western Uganda.
The lodge has both standard and deluxe cottages, making a total of 17 rooms currently. Each room is designed to make the most of the spectacular views of the surrounding landscape from every angle as well as offer a cooling retreat from the scorching savannah heat of Queen Elizabeth National Park – from the bed, the sitting area, and even the upper balcony.
Other facilities include a restaurant and dining room, a lounge and bar area, a swimming pool, and a large terrace overlooking the park.
Bush Lodge
The lodge consists of 12 spacious en-suite bandas built on a raised wooden platform and made from a fine combination of canvas and local materials. Each room has a private terrace overlooking the seasonal Kamera River.
All bandas have an ensuite bathroom with an outside shower to take their starlit shower together. There are also 2 ensuite safari tents for a bush experience.
The Lodge offers budget-friendly  10 non-self-contained tents that are furnished with comfortable beds, a bedside table, and a power outlet for charging your electrical equipment.
All tents are placed under a grass thatched roof which creates your private terrace and provides some welcome shade.
The tents share a communal ablution block with showers and flushing toilets.  Other facilities include a large dining tent as a restaurant and a bar area.
Ishasha Wilderness Camp. 
The Camp is situated within the Southern Ishasha sector of Queen Elizabeth National Park on the Ntungwe River and is home to the tree-climbing lions. The camp features 8 safari tent-stylized rooms that have a private verandah overlooking the river.
The tents are all ensuite and comfortably furnished with large mosquito-netted beds and have hot 'bush' showers, running water for hand basins, and a flushing 'eco-friendly' toilet.
Other facilities include the thatched central lounge and dining area, a campfire area, bush dining,  sundowners, and a gift shop.
The best time to visit Queen Elizabeth National Park
The Park has two seasons both dry and wet seasons. The dry season is in the month between December to March and June to August. In this period water becomes scarce and this makes wildlife viewing easier as animals tend to seek out reliable water sources and vegetation thins. 
The wet/green season is in the months of April to May and September to November. During these months the park is mostly wet animal sightings are few. 
However, these months are ideal for other migratory birds.  Wet seasons are also great for a tour because the scenery is lush and green for photography and most lodges offer discounted room rates.
travelers who want to maximize their chances of getting good weather conditions, we recommend that you go bird watching from June to September. These months have low rainfall, and there are plenty of food sources for the birds.
How to get to Queen Elizabeth National Park
Queen Elizabeth National Park is located about 410km west of Kampala. The drive takes at least 7 to 8 hours.   It is also possible to fly to any of the nearby airstrips of Kasese, Mweya, or Kihihi (for Ishasha) by scheduled or chartered aircraft from Entebbe International Airport (EBB)
Best Time to Visit Queen Elizabeth National Park
Best time to go:
January to February and June to July

(Dry seasons)

High Season:
June to September

(This is premium gorilla tracking time in Uganda and more people visit Uganda)

Low Season:
April, May, October and November

(There are less people in the park)

Best Weather:
June to July and January to February

(Less rainfall)

Worst Weather:
April, May and September to November

(High rainfall, some roads become impassable)
ABOUT TRAVELERS LINK AFRICA
Our mission at Travelers Link Africa is to connect people to positive travel experiences enabling them to see the world differently, transforming lives and the communities visited.
To do this we offer authentic travel experiences taking you on both an outer adventure and an inner journey to create memories of a lifetime with Uganda, Kenya, Tanzania, and Rwanda
CONNECT WITH US
We're here to help, so get in touch with our friendly travel consultants to book your package or add customizations your safari
Our main phone number is
+256 754 062 366
– OR –